SUPPORTING OUR ARTISTS
The online Gallery Shop showcases intricate lino-prints, carvings, magnificent ghost net creations, breathtaking jewellery and sculptures.
Gab Titui Cultural Centre supports the work of artists and cultural practitioners of the Torres Strait.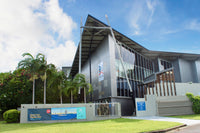 Featured Artists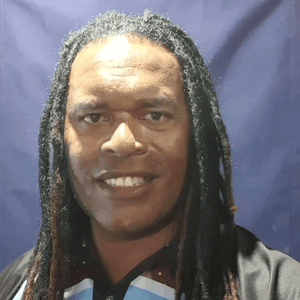 Thomas 'Connie' Pedro
Thomas Pedro is a self-taught artist who specialises in creating unique Torres Strait Islander headdresses. Influenced by history, Thomas' headdresses are made with natural fibres and materials such as feathers and straw.

Thomas Pedro is from the Wagadagam Tribe. His wind is Kuki (North West Wind) and his totem is the Koedal (crocodile).

"When I create headdresses, I try to make them each differently so no two are the same. I design them from the era when my forefathers danced in the Torres Strait," – Thomas Pedro.
See Thomas' work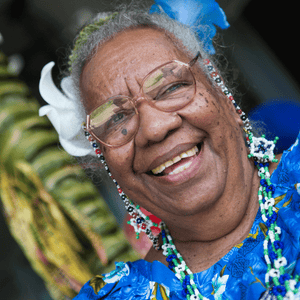 Wasie Tardent
Wasie Tardent is a cultural weaver, specialising in in natural fibre weaving and jewellery making. 
Aunty/Ama Wasie Tardent is renowned in the Torres Strait for her successful and fulfilling career in education. She is also known for her delicate weaving techniques.
She shares her skill and cultural knowledge through her art. Ama Wasie has received Commendations at the Gab Titui Indigenous Art Awards and has exhibited her works in the Gab Titui Cultural Centre Galleries.
See Wasie's Work
Louis 'Wilky' Fauid
Surrounded by art in his upbringing, Louis 'Wilky' Fauid believes that art runs in his blood. It is part of him and passed down from his ancestors.

He started practicing art in the 90's and his work has always been inspired by his life experiences.
Wilky's preferred medium is wood carving and he enjoys carving sculptures of land and sea totems.
Wilky's work has been displayed in the Gab Titui Cultural Centre galleries.
See Louis' Work
Testimonials
Beautiful and interesting!

Sandy Castestino, Summit Canada
We love our artwork from the Gab Titui! Such a broad range of ceramics, sculptures, paintings and lino prints. Too many to choose from. It's a beautiful space with the history of the Torres Strait reflected.

Dom & Dr Ineke, Thursday Island
Such a calming and inspirational space!

Minaira Fifita, Tonga
Location
Visit the Gab Titui Cultural Centre
22 Victoria Parade, Thursday Island QLD 4875