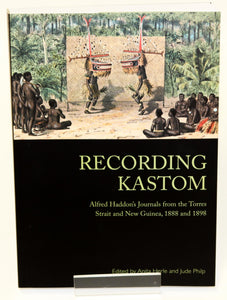 Recording Kastom brings readers into the heart of colonial Torres Strait and New Guinea through the personal journals of Cambridge zoologist and anthropologist Alfred Haddon, who visited the region in 1888 and 1898.
Haddon's published reports of these trips were hugely influential on the nascent discipline of anthropology, yet his private journals and sketches have never been published in full. The journals highlight his preoccupation with documentation, and the central role played by the Islanders who worked with him to record their kastom. This collaboration resulted in an enormous body of materials that remain of vital interest to the communities where he worked. Haddon's journals provide unique, vivid and intimate insights into the history of Australia and New Guinea and will be an important resource for scholars in history, anthropology, linguistics and musicology.
This comprehensively annotated edition assembles a rich array of historic photographs, drawings, artefacts, film and sound recordings. A substantial introductory essay gives historical and cultural contexts. The preface and epilogue provide Torres Strait Islander perspectives on Haddon's work and its significant for the present and future.